Bálintitt Castle, Ernei
National Monument Number:
-
Address:
rnei commune, Ernei village, Decebal boulevard, inside the Baron park
Dated to:
Ownership:
private property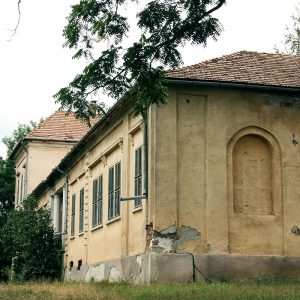 The constructions were ordered by József Bálintitt (II.) (1851-1922). At the beginning of the 20th century György Bálintitt (II.), son of József Bálintitt became the owner of the building. Due to his early death Károly (1883-1943) his younger brother inherited everything. He married br. Mária-Olga Feilitzsch. Their first-born child, Károly (1911-) was the last owner of the castle. In 1946 the castle was rebuilt and by demolishing the northern wing it became an L-shaped building. In 1954 after the nationalization the castle functioned as the primary school of the village. The one-storey mansion was originally U-shaped however, as a result of different changes it lost the original symmetrical aspect. A corner of the left side facade was substantially rebuilt: it was expanded with two floors. Upstairs a cast iron, cantilevered balcony could be found. The window frames were once semicircular but they have changed this feature later on. Ledges decorated the facades on the building. The iron cantilevers which hold the balcony were not removed after the reconstruction. The castle had 18 rooms. Two beautiful drawing rooms with Doric columns were furnished with the portraits of ancestors. They kept and guarded the archives and books of the great Hungarian humanist Farkas Kovacsóczy, Chancellor. The library included more than 15000 books in Hungarian, German, French and English language but he also had books from Russian writers in German translation.
On the hillside, which lay in front of the castle, there was a large park with a fishpond but nowadays only the remains of this can be seen. The lake was used for boating as well. A curved road led from the garden to the front porch of the castle. In front of the castle, on the left side oak trees were lined. They were arranged in a way that was similar to the English gardens typical of that age. Two flower houses were built in the wonderful park established by György Bálintitt. Today, only a few old trees have remained and the fish pond transformed into a marsh.
Ownership: After the regime change the castle was given back to the family. A kindergarten is functioning in it nowadays. The state of the building is acceptable, however, the former rich palace garden is a thing of the past.