Bánffy Castle, Borșa
National Monument Number:
CJ-II-m-B-07536
Address:
Borșa commune, Borșa village, nr 258, Cluj
Dated to:
Ownership:
Bánffy family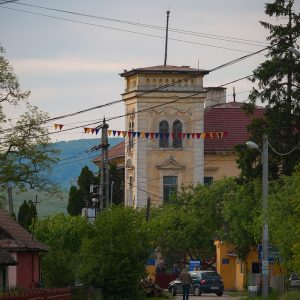 The mansion's fate in the following centuries is unknown, because there are no manuscripts from this period that survived. It is not known precisely how and when the castle, which stands in the mansion's place, was built. Art historians claim that most probably it was built in the second half of the 19th century by Bánffy Dániel (1812–1888), the main ispán of Dăbâca. His grave can be found in the forest behind the park which is situated in the southwestern side of the castle. (The son of Bánffy Dániel, Dezső (1843–1911) was the minister of Hungary between 1895–1899.) After 1945 the castle became the propriety of the state and, until 1957, it had been functioning as a school, then as a doctor's office, after that it was used as a hospital of the chronic psychical illnesses. That is why it had been closed for visitors. The castle built in Eclectic style is situated in the northern part of the trapezoid territory, near the Borșa stream. The building was constructed based on a one-level rectangular plan, and it has a hip roof. The main facade looks on to the garden and there is a rizalit balcony with columns on the first floor. In the southern corner of the house there is a lookout. The wrought iron elements of the staircase and the original pieces of furniture are also among the art history values of this building.
A park with promenades lies in the south western side of the castle. Behind it there was a territory full of trees, but after 1948 it was desolated because of the construction of some buildings which do not even fit here.
There are two other buildings with one-storey rectangular plans near the castle, on the northeastern side. These were built in the same period as the castle. The servants lived here and several other premises used for housekeeping were to be found here (kitchen, washing room etc.).