Bocskai Castle, Aghireșu
National Monument Number:
CJ-II-m-B-07511
Address:
Aghireșu/Egeres commune, village of Aghireșu, nr. 367
Dated to: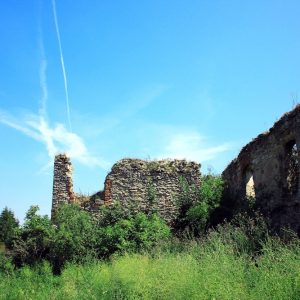 In 1594, the suzerain of Transylvania, Báthori Zsigmond, granted the castle to Csáki István. It was then obtained by Bocskai István, who left it to Bánffy László and the Haller family in 1606. The church holds the remains of Bocskai Gábor. During the 17th century the castle belonged to the Gyulaffy family – due to its geographical position it could not be used as a border castle. The building, reinforced with bastions at its four corners, was built in 1572. The beautifully carved door and window frames are the works of stonemasons from Cluj. The castle has had several owners over the centuries. Today, only the angular bastions and a few sections of wall are still standing.
Although the gorgeous renaissance castle started to fall into decay at the turn of the 20th century, people continued to live in the ruinous building until 1948.