Csáky Castle, Almașu
National Monument Number:
SJ-II-a-B-05010
Address:
Village Almașu, commune Almașu, nr. 316
Dated to: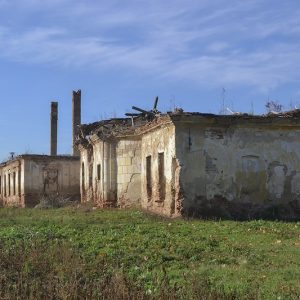 The settlement of Almașu has been registered in official documents starting from the 13th century. Before the Tatar invasion there used to be a Benedictine monastery, but it was completely destroyed during the following centuries. Next to the monastery, a fort was built as well in the 13th century, which belonged to the Csáky family starting from the 17th century. The Csáky family started to build a castle in the village in the 19th century, the ruins of which can still be seen today. The predecessors of the Csáky family settled down in the village at the end of the 16th century, when Báthory Zsigmond, prince of Transylvania, donated the estate to Csáky István, the captain of the Transylvanian army. He started to build a classicist-style castle on the estate in 1808. At its time, this was the largest castle in the whole region. The building itself was one-storied with a longitudinal layout. Several elements, such as stones, carved door- and window frames of the old fort were used when building this new castle, as the old medieval fort was situated very close to the castle and it was already out of use.
Today, the castle itself is abandoned; it has no roof only a few walls, where one can still see the original ornaments. However, the whole building is in very bad condition, its conservation is almost hopeless.