Inczédy Castle, Vințu de Jos
National Monument Number:
-
Address:
Vințu de Jos
Dated to: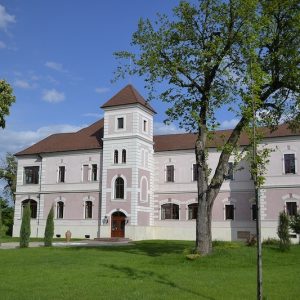 The jack arched windows display eyebrow lintels with segmental arches above them, which imitate vaulting. The rather modest, but large, two-storey building is decorated mostly with plaster ornaments, the most outstanding of which is the quoining that accentuates the corners of the building. Perhaps the most interesting details of the building are its historicising, round-arched windows divided into two segments, located at the middle of the tower with the pyramid hip roof. Almost nothing is known about the castle after 1912, although we can extrapolate that Countess Rhédey Johanna, Horváth-Inczédi Ödön's wife, left the estate to her grandchild, Earl Georg Vetter von der Liliere, but because he lived in Austria and had no attachments to Transylvania, the estate was most probably sold.
After its nationalisation, the castle became a school. Renovations began in 2011, and in theory the castle still serves as a school.