Kemény-Teleki Castle, Jucu de Sus
National Monument Number:
CJ-II-m-B-07686
Address:
463-464, village of Jucu de Sus; Jucu commune, Cluj
Dated to:
Ownership:
Private property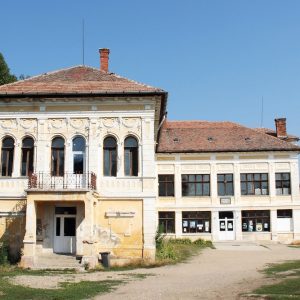 After the Trianon treaty, Teleki's fortune was mostly dismantled and an unfortune business venture forced him to sell the estate from Jucu de Sus/Felsőzsuk in 1930. The buyer was baron Kemény Pál from Mănăstireni/Magyargyerőmonostor. He died in 1934 and the estate remained in the hands of his family until 1946, when the estate was nationalised.
The castle's construction was probably commissioned by the knight Bakó Ferenc, from whom it was later bought by Teleki. It was built in an eclectic style, in an L-shaped layout with 16 and 22 meter long wings. The castle's most ornamented part is the main entrance closing the longer wing. Entrance to the castle leads between two squat ornamental pillars on top of which rests an open balcony with metal rails. Behind it are three large-sized double windows that close with a half-circle arc. They contain ornamental elements specific to eclecticism: human forms, ribbons, rosaries, and rustic stripes in the plaster. The rest of the windows close straight, have accentuated window sills and ornamentation. On the northwest side of the castle there is a small arched pentagonal corner turret at the ground floor level.
The castle once had an imposing park, but only traces of it can be seen today. The only remaining curiosity is a one and a half meter tall stone vase. It is beautified with animal and different ornamental shapes, as well as by the coat of arms of the Béldi family, which refers to the wife of Teleki Géza, countess Béldi Margit. After its nationalisation, the castle served as a school, but also served as a kindergarden, house of culture and eve library before that. The building was given back to Lázár Pál, the nephew of Kemény Pál in 2002, who then sold it to a private company. Renovations have since been initiated.