Máriaffy Castle, Sângeorgiu de Mureș
National Monument Number:
MS-II-m-B-15789
Address:
Sângeorgiu de Mureș, Main street nr. 1225
Dated to: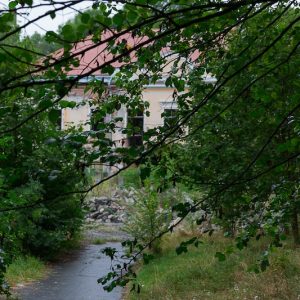 After its nationalisation, the building was used by the state's agricultural collective. After the fall of the communist regime, however, it became abandoned and neglected: its doors and windows are missing today. The building's two facades are both 28 meters long and have a decorated appearance. A long walkway leads from the main road to the castle, to the terrace featuring a columned pergola, and to the main hall. The castle's main axis is accentuated by the ornate, Attica-style wall above the cornice of the frontal facade. On the side facing the Maros/Mureș River, the ceilings of the ground floor and the veranda of the upper floor are supported by arcade-arches and trough vaults. The brick columns of the upper floor feature Corinthian capitals. The double family crest of the reconstruction's commissioner, Máriaffy Albert I (1823-1889), and his wife, Countess Bethlen Lujza (1835-1900), appears on the frontal facade's more ornate neo-renaissance Attica-style wall above the cornice (similar to the posterior facade). The three arcaded openings of the ground floor and the veranda face the Maros/Mureș valley. The facades of the castle are decorated by the cornice and the string-course, as well as the frames of the shuttered windows. The symmetrical layout of the castle, its interior decorations, and its wrought iron railings are all indicative of the proprietor's desire for opulence. Its salons and portrait gallery once displayed the works of many fine artists.
Based on postcards and old drawings, the most beautiful part of the main facade was the arcaded main entrance placed at the central axis of the castle, and the arcaded balcony above it, which was segmented into three parts and decorated with pilasters ending in Corinthian capitals. During the time of Máriaffy Lajos III (1868-1915) and his son, Lajos IV (1894-1971), a 68 hectare park belonged to the castle, with many different species of trees and a small lake. The once splendid park has been replaced with apartment blocks, a cattle-rearing research facility and a gendarmerie. The lake has since become waterlogged.