Mikes Castle, Dobric
National Monument Number:
BN-II-m-B-01646
Address:
Dobric nr. 41
Dated to:
Ownership:
church property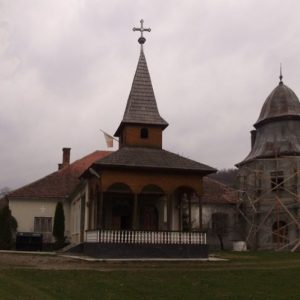 We do know the story, however, of the 1848 attack of Romanian rebels, led by Mihalas and Moldovan, together with imperial troops, against the estate. By the time the National Guard, lead by Earl Kornis Gábor, arrived at the scene, the building had already looted and left in ruins. The National Guard found many pieces of furniture from the castle spread throughout the village. This caused them to start a revenge campaign, during which they burned down almost the entire village. At this time the estate belonged to Mikes Benedek IV, whose other estate from Marosújvár/Ocna Mureș simultaneously suffered the same fate. Benedek, however, managed to restore the castle in such a way that by the time his daughter, Etelka, married Bornemissza Károly I, the damage done to the castle was undone.
The castle burned down in 1900, and Károly spent two years rebuilding it. After his death in 1911, (because his daughter, Eszter, had died) the 1600 acre estate from Debrek was inherited by his former son-in-law, Barcsay Tamás VI, who then sold it to his lawyer, Dr. Aurel Milea, in the last year of the war. The state then took the estate from Milea when it was nationalised.
After 1949, a school, a library, a medical cabinet and a movie theatre were established in the castle. After the end of communism, Milea's daughters, Zoe Constantinescu and Carmen Hortensia Mureșan sued for the return of the estate. 300 hectares of forest and 60 hectares of arable land were returned to them, and they requested a further 20 hectares as compensation, as today's village lies on that piece of land.