Mikes Castle, Săvădislava
National Monument Number:
CJ-II-m-B-07753
Address:
Săvădisla nr. 347
Dated to: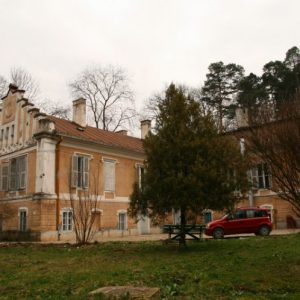 For centuries, Tordaszentlászló was the property of families such as the Corvins, the Géczis, the Csákys, the Jósikas, the Mikes' and the Szécsens. In 1802 the estate became the property of Baron Jósika János I of Branyicska (1778-1843), who was the Lord-Lieutenant of Hunyad County, and wed Róza, the daughter of Csáky János Nepomuk of Kőrösszeg and Adorján (1745-1806). Together they had a daughter, Antónia (1813-1879), who became the wife of Baron Bornemissza János of Kászon (1807-1894). They, in turn, had a daughter, Johanna Róza (1842-1932), who then married Earl Mikes Miklós III of Zabola (1841-1893), thus transferring the property, in the end, to the Mikes family. The building's construction also began at this time, as indicated by the initials MM, inscribed around the Baronial crown from the weathervane. The married couple had three children, only two of whom reached adulthood: Zsigmond V (1867-1951), who constructed the castle from Bodola, and Johanna (1866-1930) who became the wife of Earl Szécsen Miklós of Temerin. Szécsen was the last land-owner of the region, as well as the last ambassador of the Monarchy sent to Paris. He used the estate from Tordaszentlászló as a summer house.
The castle was once surrounded by a splendid 14 acre dendrological park. It has since been neglected and its condition has severely deteriorated. A lung sanatorium has functioned in the castle since 1931.