Mikes-Szentkereszty Castle, Zagon
National Monument Number:
CV-II-a-A-13326
Address:
ZAGON nr. 128 A
Dated to:
Ownership:
public property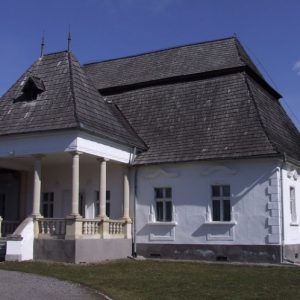 The building was in his possession, and became the property of the Szentkereszty family after it was confiscated from him. On this occasion, a list of possession was made on the 26th of December, 1716: this is how we know about the building's condition in the 18th century.
A stone house with a thatched roof stood on the estate surrounded by a wooden fence. The entrance of the house led straight to the largest chamber, "the palace". Doors opened to other rooms in all three directions, several of them were vaulted. The manor was presumably double-tracted. It was in a bad, neglected condition, moreover the ceiling of the palace had to be bolstered and supported. 19th century archive photographs show that the manor had two onion domes as well. In present days such domes can only be seen in Imecsfalva. The castle gained its current shape in 1903, during reconstructions commissioned by Baron Szentkereszty Zsigmond. The building's tall, double roofing kept its 18th century character, but its small pillared porch was replaced with a larger one at the centre of the main facade. The windows gained simple, arched plaster frames. The interior composition changed as well. A wide hall was introduced along the manor's central axis: the neighbouring rooms shrank as a result. It can be seen in a 19th century photograph that there were once curious plants in front of the building, including a cactus.
The castle currently houses the Zágon/Zagon Museum, which exhibits the memorial statues of Mikes Kelemen, Csutak Vilmos and Kiss Manyi. The old granary was transformed into a guest house.