Rotschild-Wertheimstein Castle, Ciutelec
National Monument Number:
-
Address:
ciutelec
Dated to: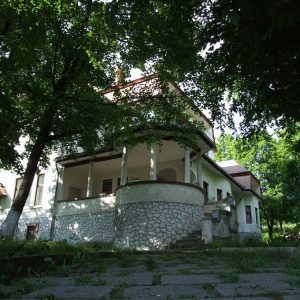 The centre of the main facade, above the former main entrance there is the coat of arms of the baron. The ground floor has three windows, the first floor five and the second floor four windows. Left to the main entrance there is a three-axis ground floor with a raised roof. The left wing of the building contains a semi-circular, bastion-like protuberance, with four windows, the roof of which was incorporated with the roof of the main facade. The access to the round terrace is made by the decorative staircase, located on the right side of the building. From here there is the entrance of the building which is now used as a nursing home. A pentagonal roof terrace with iron railings, supported by columns, can be seen above the terrace. The right-side, eastern facade contains wavy batters. The ground-floor contains five windows, above which there is a built-in attic and on the right a protruding, also built-in avant-corps. The entrance into the bastion-like construction is made by a spiral staircase, above which there are three illuminated windows.