Teleki Castle, Coltau
National Monument Number:
MM-II-a-A-04446
Address:
village of Coltau, 35.
Dated to:
Ownership:
public property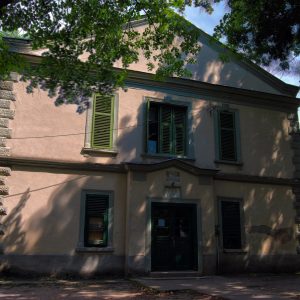 In 1846-47, the "wild count" received the famous writer of that age, Petőfi Sándor, on three separate occasions at this estate. Of these "visits", the most memorable one was from the 9th of September until the 19th of October, 1847. It was at this time and in this place that the young writer spent his honeymoon with his wife, Szendrey Júlia, while also enriching Hungarian literature with 28 more poems. Most of these were written on the stone table under the dogwood, now called Petőfi's dogwood. Teleki Sándor requested to be buried under this same tree and it was done so.
Jókai Mór writes of the castle thus: 'At first entrance, one finds himself surprised at the grand oil paintings which cover the walls of the rooms from top to bottom. The masterpieces of Bronzino, Saleruo Andrea, Guido Reni, Gerardo de la Nosse, Salvator Rosa, Artemisi, Gentileschi, Giordano Luca (glass painter), Pauji, Ribeyras, Solimene, Marko, Velasquez, Murillo, Tiepulo, Delamonica, Pagliano Palini and many others were collected here by Teleki Sándor on his travels around the world, some for a bargain at flea-market, some acquired at a hefty price.'
The count's inheritors took care of the castle and its maintenance until 1936, but were forced to leave both the castle and the village because of the changing political landscape. After WW2 it was inhabited by refugees and its furniture was carried away by locals. After its nationalisation the romantic spiral staircase and a few walls were demolished, and their space was converted into a casino under the guise of restoration. At the same time, the workers union used the castle as storage and office space. It was later transformed into a school. A school and kindergarden still function on the groundfloor to this day. It was the idea of the family's loyal coachman, Sebők Mihály, to establish a museum within the castle. The Teleki-Petőfi Museum is now open for visitors.