Toldi-Bolyai Castle, Buia
National Monument Number:
SB-II-m-A-12342
Address:
Buia, on a street close to the N-W exit.
Dated to: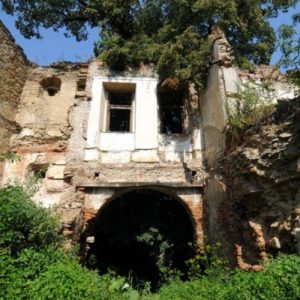 The baroque and classicistic walls were significantly rebuilt in the 18th and 19th centuries, with most of them still standing today; the binding joints, however, have mostly collapsed. The one-floor residential wing has an elongated rectangular layout and a West to East orientation. On its eastern corners, two bastions stand along the lines of the walls. These were realised under the ownership of Szilvási Boldizsár and the Toldi family during the 17th and 18th centuries. The castle's two other wings can be found on the opposite, western side. At the end of the northern wing stands a gothic chapel with support pillars and windows with lancet arches. Its vaulted ceiling has since collapsed. The inscription of Gálfi János can be read at the entrance. A few pieces of fresco are still visible around the altar. The arched gate of the main building stands near the connecting section to the shorter southern wing. In the room next to the gate, an inscription was carved into the supporting beam during the 1669 construction works, and is visible to this day. Most of the castle's territory is covered in tall thicket, while the courtyard is used for agricultural purposes.