Zichy Hunting Lodge, Aleșd
National Monument Number:
BH-II-a-B-01095
Address:
Poiana Florilor, Aleșd city, Bihor
Dated to:
Ownership:
church property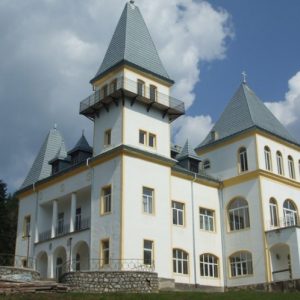 The Zichy family sold the castle to La Roche and Darvas public limited liability logging company. It was nationalized in 1948. The castle retained its original character for a long time, becoming a restaurant and hotel from 1972. After the events of 1989, the castle became living quarter for soldiers. In 1996, ownership of the estate was transferred to the Greek catholic convent of the Oradea Saint Cross Monastery. They renovated the building and hosted summer camps for children. The valuable features of the facade disappeared around this time, and the windows were changed to plastic, heat-insulating fenestration.
It is a stand-alone, multi-storied building with a rectangular layout and a single-floor building joined at the back with a suspended hallway. The central avant-corps of the main facade is two-storied and has a pyramid hip roof. A stairway leads to an open portico in front of the main entrance. The segmental arches are supported by rectangular pillars. The portico supports a terrace. Two circular windows can be found on either side of the segmentally arched entrance. The large door leading to the terrace on the upper floor, as well as the two windows on either side have semi-circular arches. Four windows with semi-circular arches can be found on the second floor. The two floors are separated by a cornice that runs across the avant-corps, similarly to a string-course. The windows to the left and to the right of the avant-corps have semi-circular arches on the ground floor and flat arches on the upper floor. Mansard windows with cupolas protrude from the attic, and a small cone shaped turret stands at the right side of the facade. Such turrets are on the two corners of the building's other side as well. On the left side of the main facade is a tower with a rectangular layout and cupola, and windows with flat arches. Here too, the building is crossed by the cornice, separating the floors similarly to a string-course. There is a balcony surrounding all four sides of the tower on the third floor. At the left facade, there are three entrances with segmented arches behind a row of semi-circular arches. There is a loggia on the floor above the arches, with cast iron balustrades and two Doric pillars. A loggia is accessible from a large chamber. Three circular windows can be seen under the cornice. There is a simple entrance-door at the ground floor and four windows with flat arches at the upper floor of the building's right facade. There are three circular windows under the cornice on this side as well. Two mansard windows with cupolas protrude from both sides of the attic. On all floors, the rooms are accessible from the large chambers.
Property status: It is the property of the Orthodox Church, and functions as a monastery.