Adorján Imre Manor, Armășeni
National Monument Number:
HR-II-m-B-12747
Address:
Armășeni
Dated to:
Ownership:
1797, 1828, extended in 1835 and 1869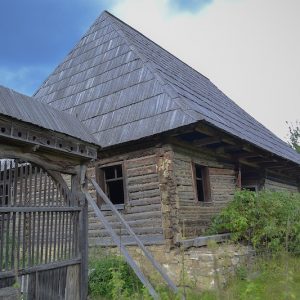 Experts have lost the hope that the manor will be rescued, but it seems that finaly the building will be rescued by the courtesy of the Heritage Protection Society of Ciuc. In 1955, the Adorján Manor from Armășeni was declared a historic monument. It was inhabited until the beginning of the 80' and than began its destruction: by the year of 2000 it became life-threatening, soaked, with several beams broken down and walls with fungus.
The Association wanted to carry out a sample renovation, therefore, as the first step, in the period of 2001-2002 research surveys were carried out under the direction of the archaeologist Tóth Boglárka. The renovation plan should have been completed by 2003, but this part was left out, for the state of the manor prompted the urgent intervention. The fungus, which was the reason why previous experts have abandoned the wooden construction, was wiped out. The roof was dismantled and re-ordered as to prevent from getting wet, and the windows and doors were also made.
The Szekler Gate, made in 1828, is one of the ten oldest monumental gates, but its values is enhanced not only by its antiquity, but also by its structure, elaboration, decoration and Latin inscription. The house itself is a symbol of primipilus, the famous architecture work of the population located along Fișag River. The manor has a stone cellar and looking at its ground plan, it belongs to the most advanced type of pent-roof houses from Transylvania.