Apor Mansion, Turia
National Monument Number:
CV-II-a-A-13299
Address:
244, TURIA village; TURIA commune, Covasna County
Dated to:
Ownership:
Apor family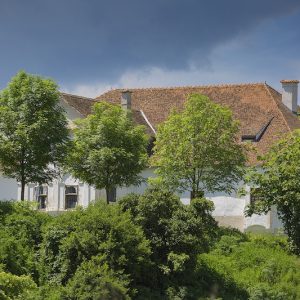 The manor-house was divided in 1666 by Apor Lázár's widdow, Imecs Judit and her three sons: András, Farkas and János. Apor János ( -1678, father of Apor Péter) built his own house, and Apor István became the owmer of the manor-house after 1679. Apor István, the Transylvanian chamberlain, baro and Earl who brought fame to his family restructured the manor-house in 1693 in a reinaissance style after the Thököly ravage.
Apor István expanded the building with two new arched and stucco decored rooms and basements under them. Moreover, he built the small reinaissance balcony similar to the one in the Kálnoky castle from Micloșoara/Miklósvár.
There are paintings from the 17th century in the "Arch", the "Small Palace" and the "Big Palace" rooms that are highly important from an art-historical point of view. The most of these paintings preserved their initial state with rich Transylvanian flower ornaments, allegoric figures, hunting and fightin scenes and family portraits. These priceless paintings might be the oldest and the most well-preserved pictures of this kind in the entire Carpathian Basin. The stove legs carved from stone found in the building are from the 17th century as well. In addition, the Apor family's Earl hatchment is from the 17th century, too: an armoured hand with a double cross holding a sword.
Apor Lázár improved the roof of the building in 1814 after he became the owner. He eliminated the old kitchen and changed the inlets of the rooms. He also built a tiered stone porch with a classicist style.
In the nearby of the castle there are two further buildings, the later grain container and the native house of the historian Apor Péter. The members of the family currently live in this rebuilt house.
Property rights: after several lawsuits, the state returned the building to the Apor faimly who started to renovate it.