Damokos Dénes Mansion House, Cernat
National Monument Number:
CV-II-m-A-13173
Address:
village CERNAT, 449 A; commune CERNAT
Dated to:
Ownership:
public property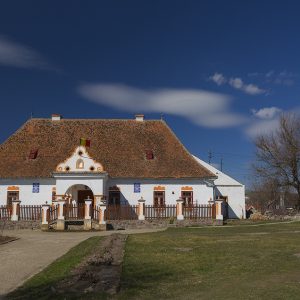 At the main entrance of the mansion, there used to be a memorial plaque ordered in August 1919 by the last owners of the house, Damokos Dénes and his wife, Hatolykai Pótsa Klára. The plaque commemorated the end of the five-year long war. The plaque was removed from its original place after 1949; it was lying around in the courtyard until 1974, when someone rescued it, and placed it in the museum. The plaque was inscribed, and it revealed that the mansion was owned first by the Bernáld family until 1570, then by the Damokos family until 1639, then by the Kálnoky family until 1732, then by the Zámbler family until 1880, and then the last owner was the Damokos family. The descendants in the female-line inherited it one after the other. The old mansion was probably built at the turn of the 17-18th centuries. In 1821 two additional rooms were built next to the original building, one at the south-eastern side, and another one at the western side. This latter information is certified by a document, which was found among the roof grids during a renovation process in the late 1980s. The document states that Zámbler László and his partner, Bernáld Mária built these side buildings in 1821.
One of the backrooms of the mansion, the north-eastern one, was used as a roman-catholic chapel until a church was built in the village. This is the only Damokos mansion with a cross (symbol of the roman catholic religion) on its top. The building had a bathroom with a 4000 liters water-container – a horse-driven pump assured its water supply, and the container could be filled on a daily basis if it was needed.
Two late-baroque styled gate pillars indicate the original southern border of the estate; these pillars are in good condition even today. On the contrary, the two middle pillars have been damaged and rebuilt several times, but not in their original form. There used to be agricultural buildings adjacent to the mansion – long gone by now - as in the 1980s block flats have been built in their places.
Property rights: public property, owner: Cernat Commune Council