Damokos Gyula Mansion House, Cernat
National Monument Number:
CV-II-a-A-13169
Address:
330, village CERNAT; commune CERNAT
Dated to:
Ownership:
public property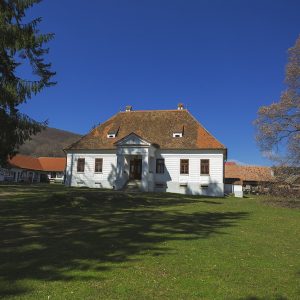 After the nationalization process started in 1949, the building had many functions: it was used as granary, birth clinic, housing for temporary workers and as pig farm as well. During these times the building started to decline, but luckily in 1937 senior teacher Haszmann Pál came with the idea to restore the premises and to transform it into a establish a folk museum. Since then the museum and the associated folk school movement brought international fame for the village.
In the cellar there is a collection of rare metal stoves. The courtyard is well organized – it has been transformed into an open-air museum, which hosts several old buildings and gates. In the northeastern corner of the courtyard there is another rare collection: one can find here the biggest collection of agricultural machines from Transylvania. As part of the folk school movement, several summer camps have been organized along the year, where hundreds of participants learned the art of woodcarving and painting furniture. The mansion house was renovated in 1993-1994, and it is still in good condition.
Property rights: public property, it hosts the Haszmann Pál Museum.