Fráter Manor, Târgușor
National Monument Number:
-
Address:
Târgușor
Dated to:
Ownership:
church property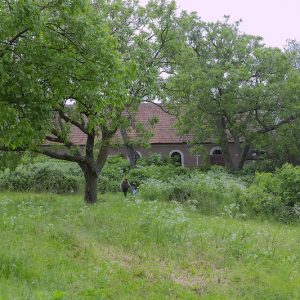 In the early Árpád era, the village of the Queen's estate is mentioned as an estate of the Premonstratensians of Váradhegyfok, dated from the 12th century. The Fráter family, who according to legends has had a manor inthis village in the XIIIth century, has received the estate in 1582, as a donation from István Báthory, the Voivode of Transylvania. The original manor, that represented the base of today's manor, was built by the son of Fráter I. Pál, I. István, in the year of 1600. The building, former used as a granary and than being vacant for decades, consists of 12 rooms. The large hall, characteristic to mansions is still standing, having on the sides rooms for accommodation and other purposes. The original chimneys of the two-storey building are missing, but the kitchen with open chimney is still standing. The manor is covered with French roof and its arcaded driveway is decorated by a baroque gable supported on pilasters with capitals. Most probably the original windows of the 11-axis main facade were baroque-framed. The manor was once surrounded by a park, its gate's columns made of brick are still standing.
There is a cellar under the western wing of the building and above it the ground-floor represented the original 17th century core of the manor, which consisted of an atrium, kitchen, a small and a large room. The xistence of this building is indicated also by the F I (Fráter István) monogram bricks used for the construction of the building. The ordinary administration transformed the interior of the manor into a chancellery, dinning room, guest rooms and maid's rooms. From the middle of the 20th century, the building was used by the local Agricultural Cooperative.
Since the property rights were restored to the Praemonstratensian Order, the building is continuously deteriorating.