Paget Manor House, Câmpia Turzii
National Monument Number:
CJ-II-m-B-07553
Address:
Câmpia Turzii
Dated to:
Ownership:
public property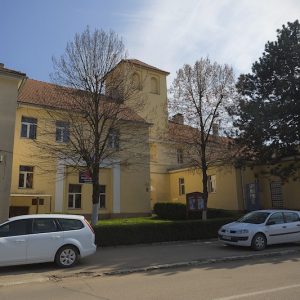 János Paget (1808-1892), originally from England, settled down in Câmpia Turzii in 1840, and has started to build a manor house almost immediately. Polixenia Wesselényi – wife of baron László Bánffy (1795-1839) at the time – and she was the reason why János Paget moved to Transylvania, and she was the one whom he married later, in 1842. Paget established a model farm in the small city, his estate has soon become the center of agricultural innovations. He introduced a new farming model: he planted trees, imported selected fruit tree and wine species from abroad abroad. Furthermore, he imported animals and agricultural machinery from England. He also bred race horses. Next to the manor house there were the farm-buildings, and he built a nice park with a pond too. In 1848 participants of the Romanian uprising ransacked the estate, they threw his books into the pond. He could only return to his estate in 1855 thanks to the help of the English government, when together with his wife, they restarted to run the farm. Later he started to focus on vine making, and soon he became one of the central figures and innovators in the Transylvanian viticulture. He cultivated mainly grapes from Bourdeaux on his vineyards close to Câmpia Turzii, Viișoara and Cean.
There were two annexes attached to the tower on both sides, the left wing was L-shaped, and it was a bit taller than the right wing. Each part of the castle was built in a Puritan spirit, it only had a few elements of decoration - like the double family crest on the forefront - which has been removed by now.
The estate was inherited by János Paget's granddaughter, because his sons were dead already. Ilona Paget (1862-1932) first married earl László Teleki (1864-1949) from Sic, but they got divorced in 1889, so Ilona married baron Miklós (VI.) Wesselényi (1869-1921) from Hodod in 1901. They had one single dauther, Erzsébet (1902-1976), who married Lajos (V.) Máriaffy from Moacsa, and they emigrated to Austria.
In 1913 Ilona Paget donated the whole estate to the Hungarian Ministry of Agriculture, so it became a center of the ministry. This role was kept until the Trianon Treaty in 1919, afterwards the Romanian State established an orphanage for boys on the estate. Between 1929-1958 it was an experimental agricultural base, then it was transformed into a "Children's Palace". Today it belongs to the Romanian Ministry of Youth and Sport, and it is used by the local Children's Club.