Sinkovits Manor House, Catalina
National Monument Number:
CV-II-m-A-13161
Address:
Cătălina nr. 370
Dated to:
Ownership:
private property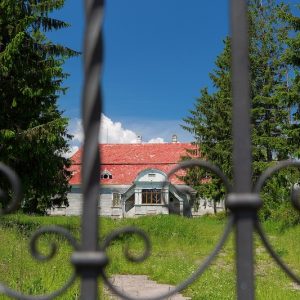 Ilona Basa, daughter of Tamás Basa married István Kún from Ojdula, followingly the manor house became their property at the end of the 17th century. However, at the end of the 19th century, Earl József Kún died without having male heirs, thus the house was acquired first by the family of Earl Klébersberg, who sold the manor to military surgeon dr. Ignác Sinkovits and his wife. Their son, Ottó Sinkovits modernized the building at the turn of the 20th century, and he established a model farm in the village.
After the Second World War the estate became the headquarters of the cooperative, which led to the decline of the bulding and of its surroundings. Today the manor belongs to Ferenc Cseh.
During the renovation works the old plater layers revealed that in the first part of the 18th century the building used to have yellow color, and it had painted decorations on its corners. The Eclectic style of the building is enhanced by the decorations of the inner spaces and by the shape of the windows and doors. Entering from the portico, one steps into the lobby. To the left from there used to be the large beautiful saloon with Late-Renaissance style painted ceiling.